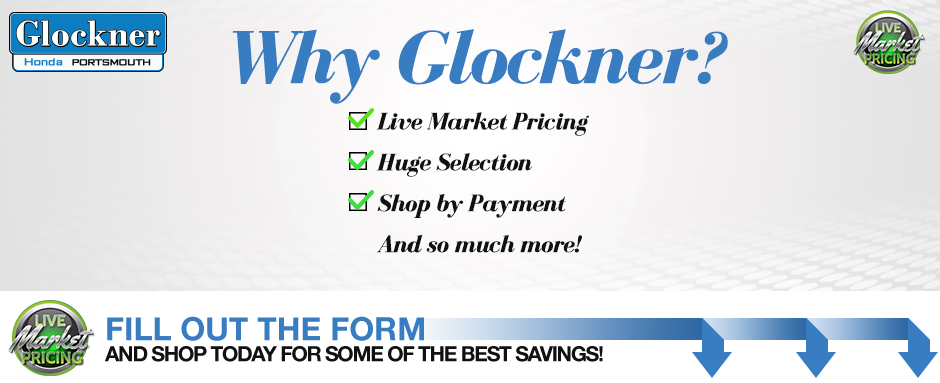 There are a lot of car dealerships out there, so why should you choose Glockner? There are many reasons to choose Glockner, but one of the big reasons is we make the car buying process easy and hassle free. We also make sure you are satisfied with your vehicle and your buying experience with a huge selection, low Live Market Prices and the ability to shop by payment. Call 888-465-2541 or fill out the form for more information on how we can help you.

Why Glockner?
At Glockner, we make your car buying experience easy because we have the Glockner Guarantee. This includes features like:
·         Over 1,500 vehicles in stock and 11 franchises
·         Live Market Pricing 
·         Shop by Payment
·         Employee incentives based on customer satisfaction
·         Free vehicle history reports with service records
·         Shortest sale process in the business
·         At Glockner you will find the vehicle you want with 11 franchises and over 1,500 vehicles in stock. We also guarantee you low prices with Live Market Pricing because we monitor competitor's websites daily to give you a great price on your vehicle. You know where your car has been with free vehicle history reports and you can shop by payment to get a car within your budget. Did we also mention we are a KBB Premier Partner?
Get More Than Just A Car
Buying a car isn't just about getting a new set of keys, it is about getting a vehicle that fits with your lifestyle at a good price from people you can trust. At Glockner, we work to make your car buying experience a great one and that is why you should stop by. Call 888-465-2541 or fill out the form on this page for more information or to set up a meeting with one of us!
Make an Inquiry
* Indicates a required field